Our City Partners and Affiliations
Bike Alpharetta was founded to serve as a dependable resource for various departments with the City of Alpharetta when integrating multi-modal improvements to roadways, walkways and trails.

Public Safety – Supports cycling and pedestrian safety initiatives and programs, in addition to engaging in education projects and programs that encourage these activities within our community.
Public Works/Engineering – Designs and maintains road projects to ensure that a safe cycling infrastructure is considered and included in all designs.

Economic Development – Supports City planning that leads to a more vibrant environment for both residents and businesses.

City Council – Advocates for various resources to support multimodal transportation and recreation issues.

Recreation & Parks – Ensures the Big Creek Greenway is accessible, as well as convenient and safe to use. Supports safe connectivity between parks and recreation areas in the City.

Position Statement – Webb Bridge Road
Bike Alpharetta appreciates the continued opportunity to provide input to the City of Alpharetta on the design of the Webb Bridge Corridor. At the meeting on October 10th and 11th, the City presented new design options. Bike Alpharetta is aligned with the City and is pleased to see incorporation of cycling specific infrastructure to allow for accessible and safe cycling. 
After further consideration of the options presented, we believe that on-road bike lanes are the best option, rather than the raised, separated bike lane directly next to a path.  This will allow cyclists to transition more easily with traffic in order to make turns and, in general, provide for safer crossing at intersections. 
We would also like to make an additional suggestion. Where there is sufficient room, we would like the city to consider a painted, striped buffer separating the vehicle lane from the four-foot bike lane. We believe that this would provide some additional security to cyclists and increase usage as well. 
Online map provided by City – click here
MARTA and Bicycle Commuting
Driving isn't your only option for getting around Alpharetta, or for commuting to other metro communities. Try using your bicycle for your commute, even if just once a week. You can use the Big Creek Greenway to easily move along the north-south corridor near N.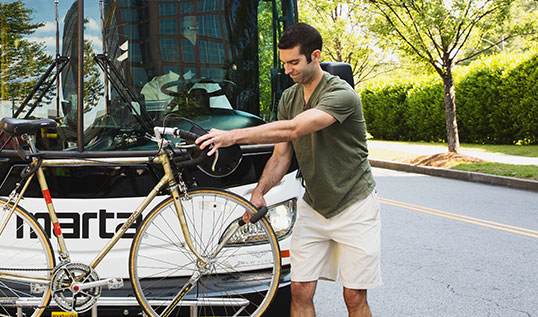 Point Parkway and to access Park & Ride lots on Mansell Road and N. Point Parkway.  MARTA is a bike-friendly option for east-west connections, as every bus has storage racks for two bikes. Once on a MARTA train, all offer plenty of room for both you and your bicycle.
Read more here.
Safer Streets? Recents Statistics
Community Projects in Alpharetta
The City of Alpharetta has reduced speed limits, effective immediately (May 2018) along 16 roadways. We support the new Speed Zone Ordinance for the safety of pedestrians, cyclists and all road users. See the list of roads here.
New City Loop Plans
The City of Alpharetta has an idea for connecting areas like Downtown, Avalon, and other activity centers via a network of multi-use pathways. This concept, currently calling "The Alpha Loop", is envisioned as something that could eventually tie in to the Big Creek Greenway and provide residents with alternatives to driving to the hot spots in our community. More details coming in 2017. City contact is Kathi Cook (kcook @alpharetta.ga.us).
City website for Alpha Loop  Click here.
Map of Alpha Look  Click here.
Click It and Fix It
The City of Alpharetta is partnering with 3rd party provider, SeeClickFix.com, in a program to provide citizens & businesses with a method of reporting issues within the city.
SeeClickFix.com is an online web application that allows any individual to report non-emergency issues such as graffiti, potholes or traffic safety issues on a map for everyone to see. Click Here
Free mobile reporting tools are also available for the iPhone, Android.
3 Feet – It's the Law
Bicycle Safety in Georgia – read all about it here from Georgia Office of Highway Safety
We need to promote and enforce the 3-Foot Law in Georgia – read more