City Bike Routes & Maps
The City of Alpharetta, with input from non-profit organization Bike Alpharetta Inc., has adopted four City Bike Routes and a City Bike Routes Map. These routes are recommended for easy connectivity to parks, schools and shopping, as well as beautiful roadways with wide shoulders or bike lanes for safer travel. These routes are marked on Share the Road signs with a designated route color and the number of miles to/from the new City Center, ranging from six to 16 miles. The Orange Route (12 miles) and Yellow Route (9 miles) provide connection to the Big Creek Greenway.

Pick up a printed map at Alpharetta City Hall, Parks & Recreation office, Alpharetta Convention & Visitors Bureau, Endurance House, REI, and other bike shops around town.
CLICK HERE for PDFs of the Bike Maps
Youth Safety – Head to Toe Tips for Kids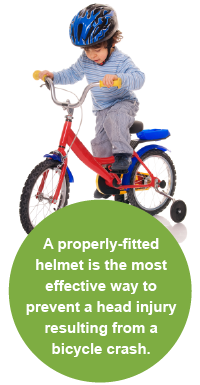 SafeKids.org is a great resource for parents and guardians of children.
Bike Lights – Recommended for Day AND Night
Having a light on your bicycle used to be "uncool". Now the mantra is See and Be Seen. A single-halogen automobile headlight puts out roughly 1,000 lumens. So what is the best headlight to use for your bicycle? Lights that putout 700 to 800 lumens are highly recommended, for road and trail riding. It is recommended to add a second light to your helmet or handlebar and turn on beams in the daylight. Be safe, be visible = see, be seen!
What every cyclist needs to know about daytime running lights by CyclingTips – read more.
Read review of bicycle lights by bike radar.com – read more.
Recommendations for Georgia Cyclists involved in Bicycle Crash
Crashing is one of the scariest moments for any bicyclist. Bicyclists are more likely to be injured than motorists due to the non-protective nature of a bicycle. Following the rules of the road is not only important for your own safety, but proving that you were not at fault for the crash is critical if you wish to file an insurance claim to cover any injuries. In Georgia, both a bicyclist and a motorist can be partially at fault for an accident. So long as you were less than 50% at fault for a crash, you could still seek damages against a motorist.
Guest columnist Deanna Power (a cyclist and an advocate) provides some tips to keep in mind if a motorist hits you. Read Full Article
Cycling Safety in a Priority

The Governor's Office of Highway Safety has some resources so you can understand the rules of the road, learn how to properly wear helmet, and lots of useful resources. Follow the links below to learn more, and share the information to help save lives!
What are the Georgia Laws on Bicycling? – read more
Can I ride my bike on the sidewalk in Georgia? – only if you are 12 years old and younger
How do I know if my helmet fits? – check out the two-finger rule
Sharing the Road – blog post
Safety Videos
The League of American Bicyclists provides a number of resources on its web site, including a series of informational videos. These are part of the online Smart Cycling program,  designed to develop your knowledge of bicycling safety by using different interactive components. Check out the link here to learn techniques for improving your ride, your rights as a bicyclist and how to ride safely on the road.
Bicycle Clubs in Georgia
The Georgia Bicycle Federation has a thorough list of bicycle clubs and organizations across the state – click here
HB 101 became law on July 1, 2011, and concerns cyclists. Here are the highlights:
1.  Cars are now required, where feasible, to pass cyclist at a 3-foot distance minimum and cyclist have right of way when operating in bicycle lane;
2.  Cyclist may ride upon a paved shoulder where available but are not required to ride on the paved shoulder;
3.  Extending the right arm and hand horizontally is now recognized as an official right turn signal;
4.  The full HB 101 bill and changes to law – click  here to read.
Below is information and links related to safe cycling, rules of the road/trail, and legislation updates related to cycling:
Alpharetta's Big Creek Greenway – click here
Georgia Bike Sense Guide – click here
Georgia Bicycle Laws – click here
People for Bikes – click here
Bikes Belong – click here
League of American Bicyclists – click here
Georgia Bikes – click here