City Bike Routes and Maps
The Big Creek Greenway has been extended in June 2021, with an extra 2.2 miles! You can now walk, ride, roll or ride between Marconi Drive and Union Hill Park. It's all concrete and provides a tunnel under Windward Parkway!
The City of Alpharetta, with input from non-profit organization Bike Alpharetta Inc., has adopted four City Bike Routes and a City Bike Routes Map. These routes are recommended for easy connectivity to parks, schools and shopping, as well as beautiful roadways with wide shoulders or bike lanes for safer travel. These routes are marked on Share the Road signs with a designated route color and the number of miles to/from the new City Center, ranging from six to 16 miles. The Orange Route (12 miles) and Yellow Route (9 miles) provide connection to the Big Creek Greenway. Coming soon – Alpha Loop!
Bike Alpharetta will have new printed Big Creek Greenway maps in spring 2022, which will be available fro free at Alpharetta City Hall, Parks & Recreation office, Alpharetta Convention & Visitors Bureau, Jekyll Brewing Taproom, REI, Pedego Electric Bikes, Cannon Cyclery, and other bike shops around town.
Use links below for Bike Maps
Greenway Trails and Ales – Walk n' Roll
Bike, run, rollerblade or walk your way along the beautiful Alpharetta Greenway! Enjoy the 20-mile trail as a group experience or on your own (and go as far as you like). Meet at Jekyll Brewing's Marconi Drive location and stay after for a post-trail social. Registration includes a Trails & Ales t-shirt and a beverage token to Jekyll Brewing. Bring your own bike! All ages welcome. Family-friendly.Registration fee:$15 (Includes t-shirt and beverage token)Under 21: free to participate in bike ride. No need to register. (t-shirt and beverage token not included)10:30 AM: Check-in: Jekyll Brewing Taproom: 2855 Marconi Dr #350, Alpharetta, GA 3000511:00 AM: Bike ride, run, walk, etc12:30 PM: Social at Jekyll Brewing Taproom.
Link to register is here:   https://apm.activecommunities.com/alpharetta/Activity_Search?applyFiltersDefaultValue=true&cat=Activities&txtActivitySearch=trails%20and%20ales
Click It and Fix It
The City of Alpharetta is partnering with 3rd party provider, SeeClickFix.com, in a program to provide citizens & businesses with a method of reporting issues within the city.
SeeClickFix.com is an online web application that allows any individual to report non-emergency issues such as graffiti, potholes or traffic safety issues on a map for everyone to see. Click Here
MARTA and Bicycle Commuting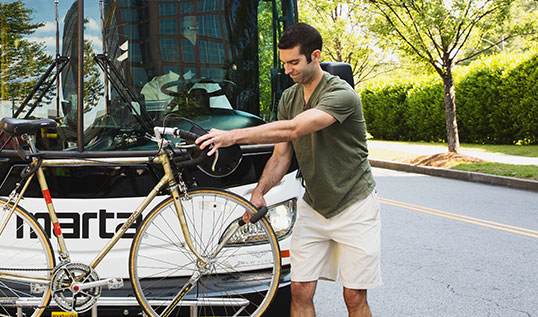 Driving isn't your only option for getting around Alpharetta, or for commuting to other metro communities. Try using your bicycle for your commute, even if just once a week. You can use the Big Creek Greenway to easily move along the north-south corridor near N. Point Parkway and to access Park & Ride lots on Mansell Road and N. Point Parkway. MARTA is a bike-friendly option for east-west connections, as every bus has storage racks for two bikes. Once on a MARTA train, all offer plenty of room for both you and your bicycle.
Read more here.
New City Loop Plans
The City of Alpharetta has an idea for connecting areas like Downtown, Avalon, and other activity centers via a network of multi-use pathways. This concept, currently calling "The Alpha Loop", is envisioned as something that could eventually tie in to the Big Creek Greenway and provide residents with alternatives to driving to the hot spots in our community. More details coming in 2017. City contact is Kathi Cook (kcook @alpharetta.ga.us).
City website for Alpha Loop Click here.
Map of Alpha Look Click here.
Position Statement – Webb Bridge Road
Bike Alpharetta appreciates the continued opportunity to provide input to the City of Alpharetta on the design of the Webb Bridge Corridor. At the meeting on October 10th and 11th, the City presented new design options. Bike Alpharetta is aligned with the City and is pleased to see incorporation of cycling specific infrastructure to allow for accessible and safe cycling.
After further consideration of the options presented, we believe that on-road bike lanes are the best option, rather than the raised, separated bike lane directly next to a path. This will allow cyclists to transition more easily with traffic in order to make turns and, in general, provide for safer crossing at intersections.
We would also like to make an additional suggestion. Where there is sufficient room, we would like the city to consider a painted, striped buffer separating the vehicle lane from the four-foot bike lane. We believe that this would provide some additional security to cyclists and increase usage as well.
Online map provided by City – click here